When an incident occurs, the clock starts — and it doesn't stop until help arrives. What happens in between is in your hands.
If an employee falls from a ladder or an explosion or gas leak has occurred, each passing minute without action could mean a worker not going home to their family.
Adding optional 24/7 live monitoring to your safety program means your team is covered by real people in real time, without drawing on your business's productivity. The only one of it's kind offered by a connected safety company, our in-house Safety Operations Center (SOC) and other Blackline Monitoring partners around the globe provide you with professional, reliable safety monitoring and emergency response management. You can focus on your company goals and the jobs at hand, knowing your team's wellbeing is accounted for.
Our specialized agents provide superior safety monitoring in all covered regions and the efficient emergency response management you need. We are fully accredited across all our monitoring solutions, with our in-house SOC earning The Monitoring Association's Five Diamond award for achieving the association's five points of excellence:
Commitment to random inspections and quality criteria standards by a nationally recognized testing laboratory such as FM Approvals, Intertek/ETL, UL and ISO.
Commitment to the highest levels of customer service.
Commitment to ongoing job-related education and testing by having 100% of its central station operators certified using the TMA online training series.
Commitment to raising the industry standards through TMA membership and participation in its activities.
Commitment to reducing false dispatches.
Rest easy knowing you can deliver your team to safety. No one is left behind.



Always available, so you're never alone

With our 24/7 Live Monitoring service, 99% of calls for help are answered in under 60 seconds. Agents are empowered to efficiently escalate responses to local emergency services while also providing responders with the details necessary to help them properly prepare for and safely enter the incident site, greatly reducing the risk of further harm.
Blackline monitoring agents are also equipped to trigger and expertly manage evacuations, monitoring workers' progress to muster points throughout the drill or incident. Agents can scale evacuation alerts and communicate instructions to individual workers or to an entire site through text or voice messages, ensuring no worker is ever left behind.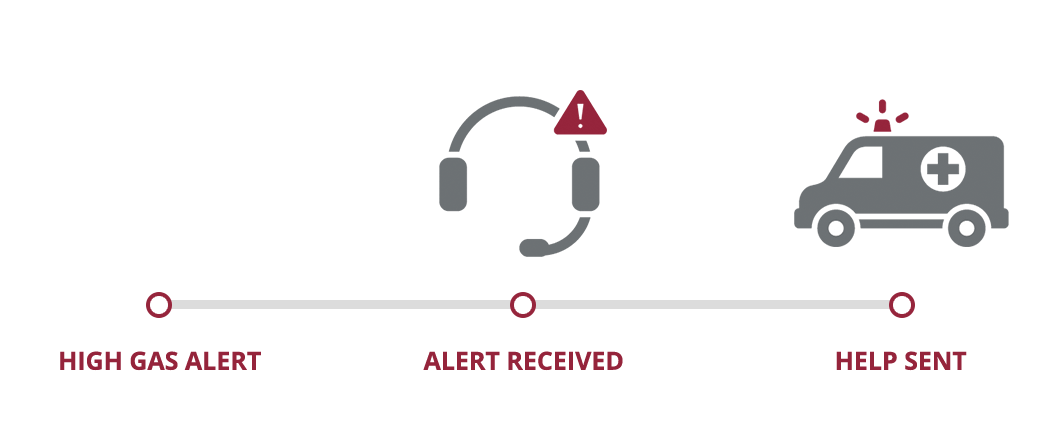 Prepared for anything
If power is lost, or SOC agents are forced to evacuate from our in-house monitoring center for any reason, the SOC can turn into a mobile, self-sustained unit in minutes. Mobile Wi-Fi pucks and always-ready laptops mean that our monitoring agents can connect to the internet from a vehicle on the way to a backup location, seamlessly managing alerts while on the move. Backup contingencies include:
Dual back-up internet connections
Redundant power supplies
Monitoring and support through web-based Blackline Live to support monitoring continuity, even on the move
Emergency mobile monitoring equipment
Secondary location in case of evacuation
Multi-language support for 200 languages